| | |
| --- | --- |
| | by SCMGA (Stafford County Master Gardener Association) |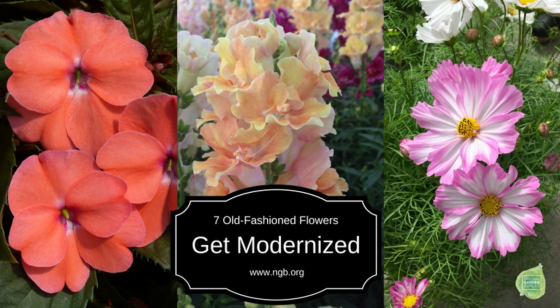 Want to plant some of grandma's favorite flowers but a modern-day version?  Then you are going to be excited about the new varieties that are coming soon to your local retailer!
One of the many trends found at the horticulture industry's California Spring Trials this year was shaking up old-time flower varieties and making them new and improved for our gardens.  California Spring Trials is a yearly event where growers, breeders, and suppliers showcase their newest and existing products at various locations throughout California. These are just a few of the many beautiful new varieties we saw this year:
Fuchsia
A beautiful hanging basket favorite has been bred to produce more flowers that last longer, plus, it's a more compact size – perfect for smaller spaces.  You can't  go wrong with the tear-drop shape of the multi-color flowers bursting into bloom….breathtaking!

Phlox
Grandma and pollinators loved the old-fashioned garden phlox and now you can have pollinator-friendly plants that really POP in your garden. The new 'Popstar' Phlox is a dwarf strong-branching variety with eye-catching, unique, star-shaped flowers. Lots of flower POP for the whole season!
Snapdragons
Snapdragons are no longer the flower in the background of the garden. Twinny Snapdragons are the first double flower form snapdragon with a compact habit. Great for cut flowers and pollinators.  Snapdragon Twinny Peach™ F1 is an All-America Selection Winner.
Gomphrena
Older gomphrenas were certainly nice and made good cut flowers and container garden elements but the newer ones are even better! 'Ping Pong' gomphrena produces masses of large globe flowers with more petals per globe in several bright colors.
Ornamental Oregano
This is certainly not grandma's oregano! This beauty,  named Kirigami, is purely ornamental but it is an eye-catching variety perfect for combination containers with its purplish green bracts, rose pink blossoms and delicate green foliage.
Cosmos
It seems cosmos have been undergoing a resurgence in popularity lately thanks to features like double flowers and multi-colored blooms. The Apollo series comes in three colors and now a new variety, 'Love Song' first blooms in white and changes to pink then dark rose with some flowers having variegated petals providing a gradual color transition all summer.
SunPatiens
The SunPatiens story is as precious as grandma because of the "giving back" story: One of the parentage plants was discovered in Indonesia and as part of an international agreement regarding genetic resources, for every SunPatiens purchased, a percentage of that sale goes back to the people of Indonesia. Don't equate these beauties with the old busy Lizzies though. SunPatiens are much larger, vigorous plants that do great in both sun and shade and produce a profusion of vibrant blooms right through the summer heat. SunPatiens® Spreading Shell Pink was named a 2015 All-America Selection winner, a vigorous spreading plant that keeps its shape all summer, plus, does just as well in full sun as in shade.